Mario Balotelli and his five tattoos over the weekend: facts and photos
From the material you will learn about five new tattoo designs (including the "Black Power" tattoo on the face) that the famous Italian football player Mario Balotelli made for himself in a couple of weekends, you can see the tattoo designs on the photo.
Mario Balotelli and his five tattoos over the weekend: interesting facts and photos of the tattoo
Few would dare to say that the last couple of years for a football player Mario Balotelli – were light. During the year, the athlete played for three different teams: "Nice", "Marseille", "Brescia".
After Mario tried on the title of one of the best scorers in the world, he had to be content with 5 goals scored out of 19 games for Brescia, which most likely influenced the fact that the football player turned to tattoo artist, for new tattoos.
A trip to a tattoo parlor for new tattoos has become more than fruitful. 5 new tattoo designs have appeared in the area of ​​the neck, head and face of the football player. By the way, this led us to the idea that today famous athletes get only 5 tattoos at a time, tk. former NBA MVP Derrick Rose, recently got 5 tattoos in one run.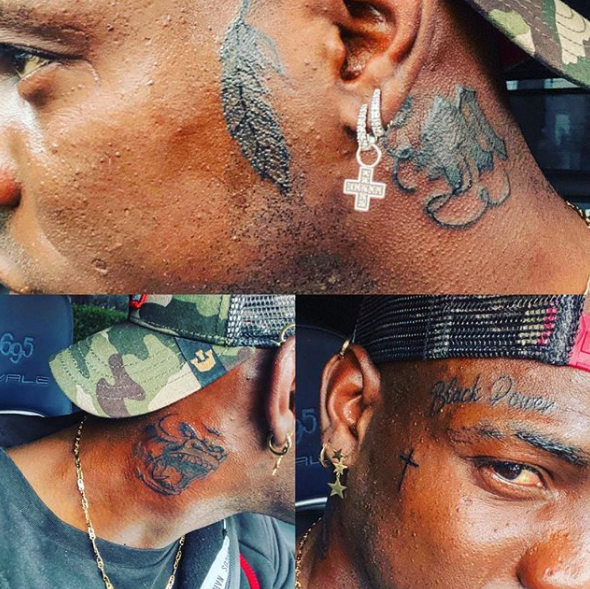 About tattoo drawings by Mario Balotelli
No matter how we try to evaluate the artistic value of a drawing, a tattoo on a face is always a flashy statement. Especially if we consider the new tattoo with the inscription "Black Power" over the right eye of a football player..
Mario Balotelli, as a black Italian, is often attacked by fans during the match, which are clearly racist. This happened quite recently during the match between Hellas Verona and Lazio. Many football experts agreed that such a tattoo is a fearless statement in the eyes of offenders..
Complete with a tattoo inscription, the athlete made the following tattoo designs:
Tattoo with the letter "M"
Feather Cheek Tattoo
Tattoo with a cross under the right eye
Roaring Gorilla Tattoo On Right Neck
All tattoo designs were made by a master – Eros saviano.