The tattoo that was given to the pastor right during the sermon in Las Vegas
"Everything that happened in Las Vegas stays in Las Vegas." This capacious phrase contains a rather simple meaning, in this city of sin you can do whatever you want, but you should not take it outside the city boundaries..
Las Vegas
A fairytale city, a city of dreams come true, unrestrained fun and licentiousness. They win a lot of money and lose even more, they sleep in it during the day, because at night there are the noisiest and brightest parties. Everyone goes to this city to allow themselves to do whatever they want. But this applies to tourists, and someone lives there permanently.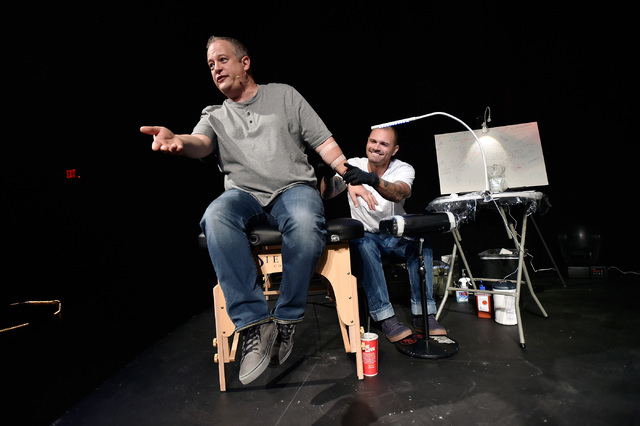 The infrastructure of the city, along with its many entertainments, rests on the shoulders of the locals, for whom such a lifestyle becomes commonplace, an endless night party. One way or another, they work there, fall in love there, get married, live, build relationships and have love. They also go to shops, clinics and churches..
Of course, such a life leaves a certain imprint on the mentality of people, and if we consider their life from the point of view of everyday life, it goes beyond what is permissible for an ordinary person..
Tattooed sermons
For example, in one of the churches, which has a rather long and unusual name for a church, one unusual project was launched in 2016. For a month in this church, they helped people find themselves and accept them for who they are. In "Churches for People Who Don't Like Churches" as part of this project, a pastor from Las Vegas got a tattoo on his arm right during the service.
Vince Antonuchi
Seeing Vince in the crowd is unlikely to suggest that he is a pastor. In regular blue jeans, gray sneakers and a T-shirt – that's how he came to this project. He came to the project, went up to the stage, held out his hand to the master and began to read a sermon. And the artist Chance Gomez at this time made the pastor his first tattoo. For his first tattoo, Vince chose the inscription "The One Jesus Loves." When asked why he even decided to get a tattoo, because this is not the most typical hobby for church ministers, he replied that he is the same person as everyone else. Any person in life has situations that leave a deep mark in life. And a tattoo, even for a pastor, can be a good symbol of such situations. For him, such a situation turned out to be family relations with his father..
Vince's childhood
Vince Antonucci said that he had a rather oppressive father, who in every possible way suppressed the boy's confidence in his abilities. His father constantly called him stupid. Useless and problematic. In an interview with the Las Vegas Review, he admitted that a tattoo for him is a symbol of self-identification, and in order to change and be able to identify himself differently, you need to deal with your old problems. And the tattoo here plays the role of a litmus test. When he comes to inner harmony, he can accept himself as he is, on his own, and not through God, then perhaps he will make a new tattoo in place of this.
Prepared by: komlevaas (Komleva Anastasia Sergeevna)