Have you reviewed many albums, magazines, websites, thoroughly studied the main directions in tattooing, but have not found a drawing that reflects all the features of your complex, contradictory nature? Do you really have to give up the idea of ​​getting a tattoo? Of course no.
The fact is that many images do not belong to any particular type of tattoo. They are heterogeneous and are united in groups rather conditionally. There are no canons, strict traditions, once and for all fixed interpretations, classical and non-classical design. Colored and monochrome, large and small, deeply symbolic and playful – such tattoos are always unique..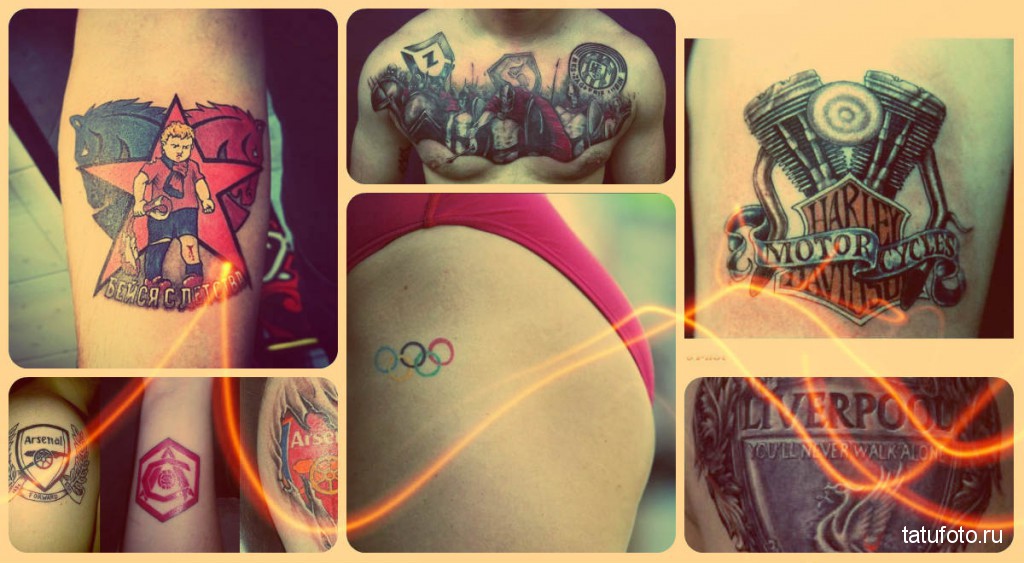 Tattoo emblems – all examples in the photo
The emblematic image can be completely arbitrary and depends only on your taste. In the language of a symbol, it speaks of your character, your worldview and attitude. As your own sign, your emblem, you can choose any, even the most unexpected object – a table, a vase, a tube of cream, a tin can, a moon, a tree, a ladder. If you are, as they say, "spicy little thing" or "tough pepper", declare it in your tattoo. A fairly simple, realistic image of red hot pepper will tell about you more eloquently than the most sophisticated and fashionable tattoos.
Emblem tattoos – all the fun
The "Star" tattoo can have different meanings: a sense of one's own individuality, chosenness, belief in a dream, the desire to always be in the center of attention, aspiration upward, etc..
There is a special light sadness, lyrical melancholy in the image of a cascade of cold blue stars, partially shaded and complemented by an ornament of simple curlicues. Distant azure-silver stars sparkle in the night sky, but the morning hides them from the eyes of people. The morning light seems to paint over the stars with black paint, but even through it they continue to flicker slightly. And we know that with the coming of night, the stars will shed their black veil and shine again.
Often they do not put a special symbolic meaning into the drawing of stars, but they are pricked simply because of their beauty or a successful tattoo design..
If you're okay with your inner child, get yourself a tattoo with your favorite animation or fairytale character. Come up with your own cartoon. Doesn't the little golden-haired girl look adorable, clutching her favorite toy with her teeth??
A tattoo with characters from fairy tales does not have to be comic or childish. Many fairy tales, if you look at them from a different angle, are close and understandable to the "adult" world. For example, Malvina and Pierrot, familiar to us from childhood, have a rather complicated relationship, and their love is permeated with sadness and even tragedy. Such a vision of fairy-tale characters can be very successfully conveyed in a tattoo. Cold colors (blue, black, purple, dark red) will give the picture a gloomy flavor, create a feeling of hopelessness and inner breakdown. The faces of the heroes, made in a realistic manner, on the one hand, introduce dissonance into this already by no means harmonious image, and on the other hand, they eliminate the last features of fabulousness, childishness from the drawing..
The art of tattooing is alive and well and constantly evolving. Perhaps while you are reading these lines, some talented tattoo artist is developing a new unique style that tomorrow will explode the usual ideas about tattooing and make even the most ardent opponents of the art of body painting talk about it differently..
photo of tattoo with emblems from 08/15/2015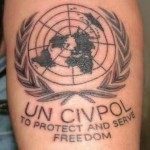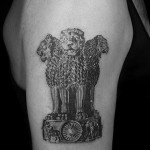 Iron Buzz Tattoos, andheri, mumbai;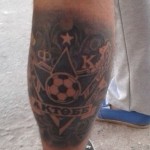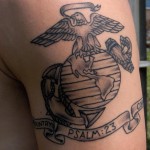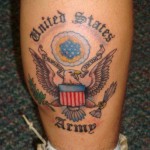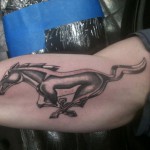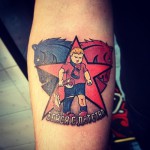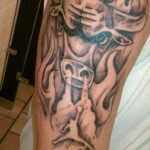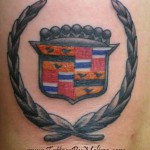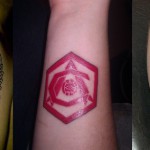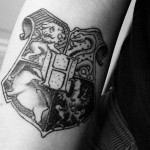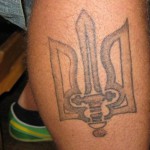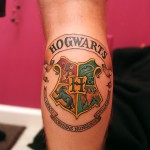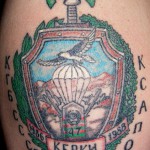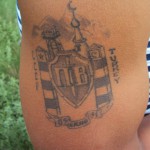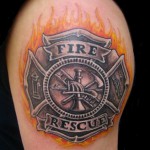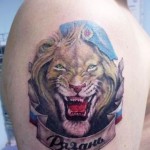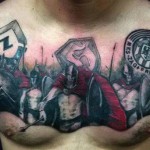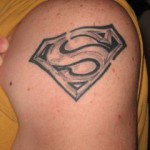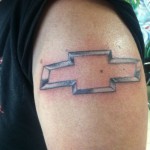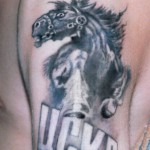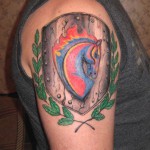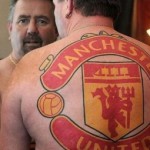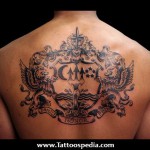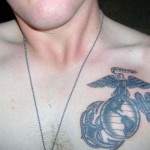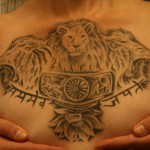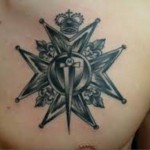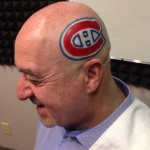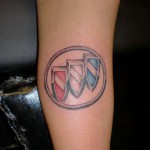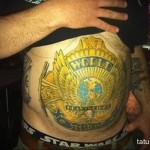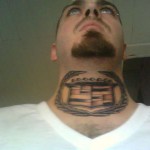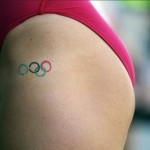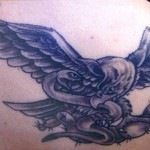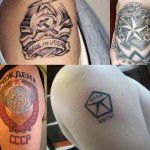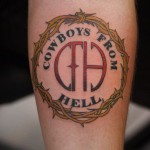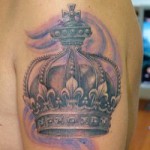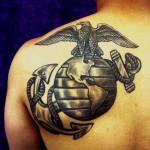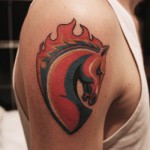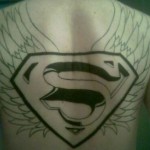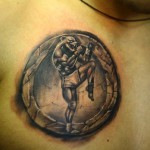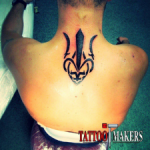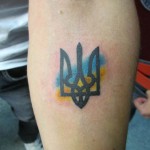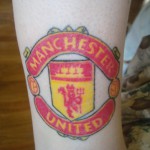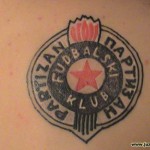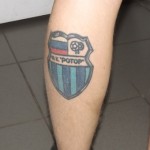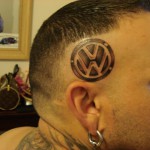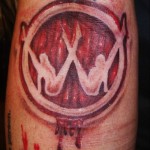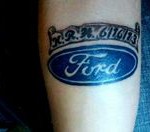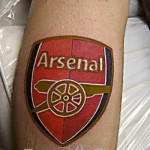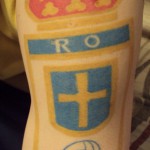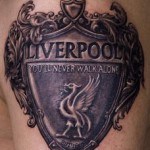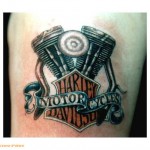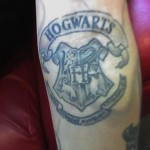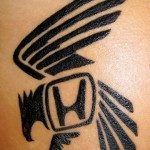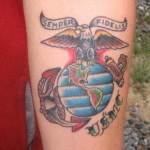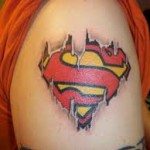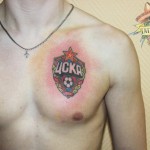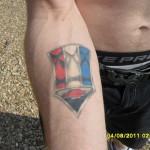 watch video with tattoo emblems
You can watch:
| | | | |
| --- | --- | --- | --- |
| | VALUE OF TATTOO EMBLEMS | | TATTOO SKETCHES WITH EMBLEM |